Artètipi: l'arte che non ti aspetti
Una Bella Storia è un portale di comunicazione sociale, promosso dal Consorzio Solidarietà Sociale di Parma con il contributo di Fondazione Cariparma che nel luglio 2018, ha raccontato chi siamo, nella cornice della Palestra Gregor
"L'arte è dove nessuno la cerca, dove nessuno se l'aspetta, là bisogna andare a cercarla. E questa è l'Art Brut."
Una Bella Storia is a social communication portal, endorsed by Social Solidarity Consortium of Parma and a contribution from Cariparma Foundation. In July 2018 they told our story, in the context of Palestra Gregor Samsa.
"The Art is there where no one is looking for it, where no one is expecting it, that's where it is. That is the Art Brut."
Atelier I Cachi: Palestra Gregor Samsa
Come se la cavano i nostri artisti davanti ad una videocamera? 
Ecco una serie di interviste contenenti pensieri, riflessioni, storie per conoscere meglio chi si nasconde dietro ai disegni che tanto ci piacciono!
And how do our artists fare in front of a video camera?
Here are a few interviews full of thoughts, reflections, stories to get to know better those who are hiding behind the drawings and paintings that we like so much!
Maria Magnani racconta Artètipi e lo fa per immagini.
Regia di Enrico Gotti.
Maria Magnani talks about Artètipi through images.
Directed by Enrico Gotti.
Draw the call- disegna la telefonata
Le telefonate di Talking Teens sono diventate fumetti grazie alla collaborazione con ARTÈTIPI e il progetto "Draw the call-Disegna la Telefonata!" vincitore del Bando pubblico per Parma Capitale Italiana della Cultura 2020+21. I fumetti si possono sfogliare nella nuova voce Comics della APP Talking Teens.
The phone calls of the Talking Teens have become comics thanks to the collaboration with Artètipi and the "Draw the call-Disegna la Telefonata!" Project, a winner of public contest for Parma Italian Cultural Capital 2020+21. It is possible to view the comics on the Talking Teens app under the "Comics" tab.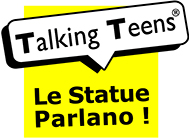 Reverso è un progetto interassociativo finanziato dalla regione Emilia Romagna con tema l'inclusione sociale di persone con disabilità. 
L'apporto di Artètipi al percorso ha visto coinvolti i nostri artisti nella creazione grafica dei personaggi di un cortometraggio animato grazie al supporto dell'artista Tommaso Buldini.
Reverso is an interassociative project financed by region Emilia Romagna on the theme of social inclusion of people with disabilities. 
Artètipi's contribution to the process involved our artists in the graphic creation of the characters of an animated short film thanks to the support of the artist Tommaso Buldini.
Il video è stato realizzato appositamente da Alessia Tzimas per raccontare il workshop "Che storia è questa" e annunciare la mostra scaturita dalla collaborazione con Artètipi.
Produzione: Federico Termini & Ermano Nubi
Vocals: Walter Nicosia
Montaggio: Alessia Tzimas
The video was made specifically by Alessia Tzimas to describe the workshop "Che storia è questa" and announce the exhibition that emerged from the collaboration with Artètipi.
Production: Federico Termini & Ermano Nubi
Vocals: Walter Nicosia
Editing: Alessia Tzimas